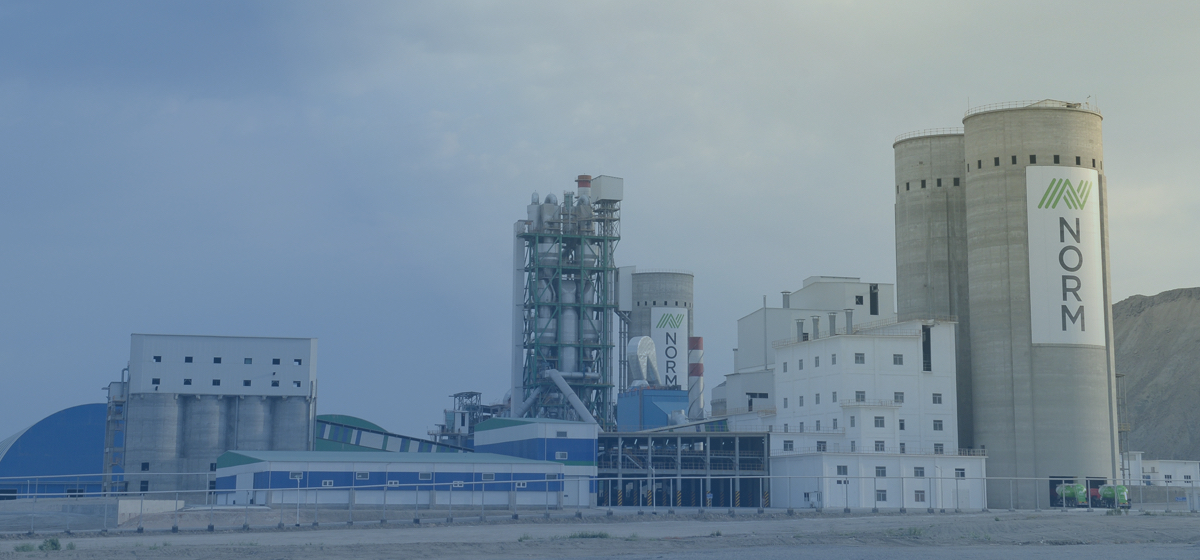 Norm
Globally best available technologies were installed to provide efficient and effective operation of the Norm cement plant for many years.
The Norm cement plant is the largest cement plant in the South Caucasus, with a production capacity of 5,300 tons clinker per day and 2.1 million tons of cement per year.
The plant covers 80 hectares of land and is located in the Garadakh district of Baku, Azerbaijan. It has rich deposits of its main raw materials, limestone, and clay. Additive materials such as volcanic ash are procured on the local market. Reserves of raw material deposits owned by the plant are planned to provide for several decades of operation. The mineral resource base of the plant in connection with its not fully used production capacity yet allows a significant increase in its production output if required.
As the project of Norm cement plant was realized from scratch, full infrastructure had to be established in the area. In this regard, a high-voltage power line of 15 km length was built, Sangachal Electrical Substation was reconstructed, and its power increased up to 200 MVA. Also, water and gas pipelines and an access road were constructed. In addition, a fiber optic line was built to provide Internet and communication services in the area.
Globally best available technologies were installed to provide efficient and effective operation of the Norm cement plant for many years. The main technological equipment was supplied by leading manufacturers of Germany, France, Switzerland, the Netherlands, and other European countries. This equipment guarantees high-quality production, safety and effectiveness of operations, and energy efficiency, and finally, for the provision of Europe's toughest environmental standards.
Special attention is paid to the quality of cement produced. Modern cement and concrete laboratories are available at the plant. The company closely collaborates with Germany's world-renowned VDZ Research Institute. All cement products of Norm are produced under European standards. In addition, Norm is an active member of the European Cement Research Academy (ECRA).
Norm cement plant has received ISO 9001, ISO 14001, OHSAS 18001 certificates for quality control, environmental protection, and occupational health & safety.
Norm has already managed to take a strong position in the local cement market. Looking back at recent years, the constant growth of the plant's annual production volume is a sign of the brand's leadership in the market. Putting the Norm cement plant into operation significantly impacted the cement production increase in the country.
Since its inception, Norm has fulfilled its social commitments and continues to implement successful Corporate Social Responsibility projects. One of such projects is Norm Ustalar Klubu (Masters Club). The Club was started in 2016 and has been active for over three years. The Club currently has 4,000 members. Throughout the lifetime of Norm Ustalar Klubu, 44 awareness training sessions have been organized in different cities and districts of Azerbaijan. The benefits of the Masters Club are calculated not only for the masters but also for the end-user, in general, for the community. Norm is also active in vocational training beyond its own human resources requirements. In 2018 the company entered into a collaboration with two local vocational schools. The collaboration allows trainees from these vocational schools to spend part of their apprenticeship in an industrial environment and gain practical experience.
Norm is the largest cement producer in the region. The future goal of the enterprise, equipped with the best available technology, is to increase its product portfolio in order to serve better the local construction industry and support the application of modern construction technologies. Also, Norm is implementing a project to start the production of oil-well cement according to API standards, providing oil and gas producers and oil and gas servicing companies from Azerbaijan and other Caspian littoral countries with a high-quality product.
For more information, please visit www.norm.az.