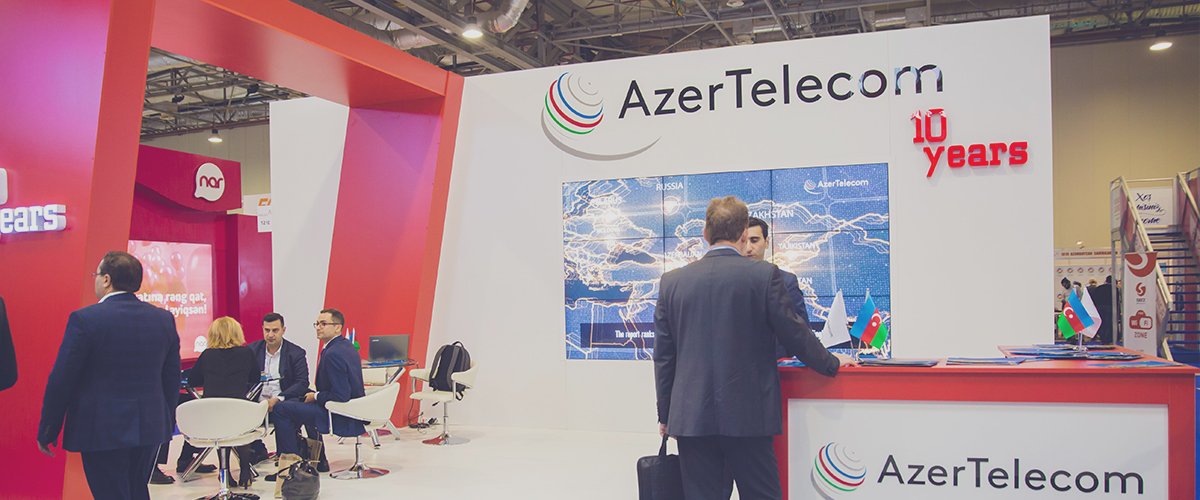 AzerTelecom
AzerTelecom is the Internet backbone provider connecting Azerbaijan to the global internet network.
AzerTelecom is the Internet backbone provider connecting Azerbaijan to the global internet network.
Established in 2008, AzerTelecom is a subsidiary of Bakcell, the country's first mobile operator and the fastest mobile internet provider.
AzerTelecom provides Azerbaijan with high-speed internet and other telecommunication services. The company has a sustainable and diversified fiber optic cable network covering all major regions and cities in Azerbaijan and connected to global network, including all major international telecommunication hubs through its partners' networks abroad.
The company has a significant market share in Azerbaijan's telecommunication industry, specifically in the Internet backbone market. AzerTelecom constantly brings innovations to the country's telecommunication market, offers new services, implements innovative projects, provides customers in the corporate and public sectors with advanced telecommunication services, and holds the relevant licenses.
The company provides customers with a wide range of services:
Wholesale Internet: the company brings the Internet traffic to Azerbaijan and sells it to corporate customers, including internet service providers (ISPs) and others Mobile Backhaul: the service is provided via wide MPLS/DWDM/SDH networks
Leased Line Services: the service is provided across the country and internationally
FTTx: AzerTelecom implements laying of fiber-optic cable to various destinations in Azerbaijan
DDOS Protection Service: DDOS (a denial of service attack) protection service is provided to protect customers in case of cyber-attacks
International Transit: AzerTelecom's network is interconnected with its partners' networks abroad, ensuring quality internet traffic transit through Azerbaijan's territory
Sip Telephony: the service, unlike traditional telephony, allows the number to be transported to any address without additional costs
Data Center Services: the colocation, secure infrastructure, and hosting services enable customers to strengthen their business and ensure security
VPN (Virtual Private Network): the service allows customers to create their virtual private networks
In 2011, the company implemented the Quality Management System and received the Certificate of Compliance with International ISO 9001:2008 Standards.
AzerTelecom implements corporate social responsibility (CSR) strategy focused on its operational area and supports a variety of projects implemented in ICT and other sectors.
"Digital Silk Way" project
AzerTelecom implements a major project known as "Digital Silk Way," launched by NEQSOL Holding in 2018. The initiative aims to develop a modern transit fiber-optic (FO) infrastructure network connecting Europe to Central and South Asian markets through Georgia and Azerbaijan.
"Digital Silk Way" is supposed to develop the region's digital ecosystem in line with the most advanced world standards, as well as reduce its reliance on foreign Internet suppliers, and improve access to various digital services for 1.8 billion people in the Central and South Asia regions. The ambitious project provides for the possibility of creating modern data centers and Internet traffic exchange points in Azerbaijan and Georgia, turning the region into a potential destination for global hyper scalers.
Within the project, AzerTelecom together with partners in Kazakhstan launched the construction of the "Trans Caspian Fiber Optic (TCFO)" cable line that will connect two countries along the bottom of the Caspian Sea. An agreement to launch a similar line that will connect Azerbaijan and Turkmenistan was also reached in 2019. AzerTelecom also cooperates with Azerbaijan Railways to construct sustainable backbone fiber-optic cable lines within the territory of Azerbaijan.
In 2020, the Global Strategic Infrastructure Leadership Forum held in the US selected the Digital Silk Way project as one of the top five infrastructure projects in Asia.
For more information, please visit www.azertelecom.az and www.digitalsilkway.az